Support the Shelter, Find Treasures at the Cottage Shop!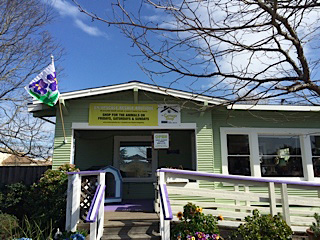 2260 7th Avenue
Santa Cruz, CA
Open Thursday & Friday 12:00 - 5:00 Saturday 11:00 - 4:00pm
---
Follow on Facebook to see all sorts of treasures for sale, our amazing volunteers in action, adoptable pets visiting the Shop, and much more!
---
TOO MANY TREASURES?
Donate To The Benefit Shop!
Are you out of room because you have too many things you never used? Are you downsizing or simply changing your décor? The Benefit Shop has a solution for you! We gratefully accept vintage and new: jewelry (real or costume), china, crystal, silver, linens, giftware, art, collectibles, small household furnishings, kitchenware, pet and garden supplies and more. We do not accept clothes, shoes or books at this time due to lack of space. All donations are tax-deductible.
We accept donations Thursday thru Saturday from 10:00 – 5:00. Furniture and larger items by prior arrangement with Shop Manager
Thanks to the dedicated staff and volunteers at our Santa Cruz Shelter Benefit Shop, your unwanted items can be turned into needed funds to support all the services provided for our community by the Santa Cruz County Animal Shelter, such as Planned Pethood and the Low-Cost Spay/Neuter Program.
And, if you're looking for a great place to shop, the Benefit Shop will always provide something new for bargain hunters and treasure hunters alike. The inventory is constantly changing, so you never know what you might find!
---
COME VOLUNTEER WITH US
Not only do we benefit the animals and feel good about what we do, we have fun too. For information about volunteering at the Shop, please contact Leila Dunn leila.redhen@gmail.com or 831-246-3870.
Cottage Shop Team
Shop Manager: Leila Dunn
Andrea Joyce, Barbara Schulties, Cassie Silva, Cindy Olson, Heather Dawson, Jackie Russo, Jill & Phoebe Cliffton, Kathleen Seibel, Lois Laidlaw, Lori Bell, Marcie Dekking, Meredith Dyer, Pat Alexander Weston, Steffi Sapri, and Susie Bower
---
Cottage Shop Business Donors
Gayle Ortiz Gayle's Bakery & Rosticceria • Laurie Roberts KPIG • DeeDee Hansen D2 Painting • Sally Wing Blue Heron Design Group • Jenny Sandrof Blue Heron Design Group • JJM Painting • Matt Garcia Gold Coast Builders • King's Paint • Betty Clay Fresh Facades • Harry Reinert Veterans of Foreign Wars Hall Post # 7263) • Day Worker Center • Hart's Fabric • Shampoo-chez • Little Pup Lodge • Bailey's Groom Service • Sonia Gates Photography • Trader Joe's • Erik Black Kelly Moore • Teo Berrelleza Kelly Moore • Sonny Chavez Kelly Moore • Barry Jackson Equinox Champagne Cellars and Bartolo Winery • Buckholdt Construction • Slawinski Auctions • Riccabona Landscaping • Maverick Mailing

---
Special Thanks to Supervisor John Leopold for his proclamation honoring Littles, the official spokesdog of the Cottage Shop!