Grand Opening of New Dog Yard!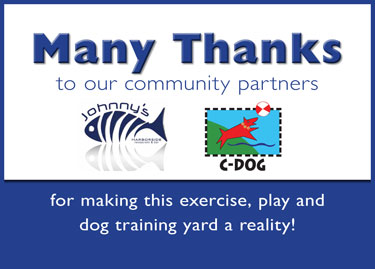 COME CELEBRATE WITH US!
MARCH 23 • 1-3 pm • 2200 7th Ave.
Santa Cruz County Animal Shelter (SCCAS), in partnership with Johnny's Harborside Restaurant and Coastal Dog Owners Group (C-DOG), will celebrate the grand opening of the new dog play/exercise yard at the shelter. The event will be on March 23, 2013, from 1:00 pm to 3:00 pm at the Santa Cruz shelter location, 2200 7th Avenue, featuring an official ribbon cutting by County Supervisor John Leopold. The new dog play yard provides the shelter with an area for dogs to run and play with other dogs as well as receive obedience and agility training.
THE EVENT WILL ALSO FEATURE THE FOLLOWING:
FREE rabies vaccinations for Santa Cruz County resident dogs with purchase of a dog license ($29 for altered dog, $74 for unaltered dog)
Positive reinforcement dog training and motivation of dogs with play and enrichment presentations by Sandi Pensinger from Living with Dogs, Lori Katz from Kindred Spirit Dog Training, Karen Phillippi from Click'Em Dog Training and Santa Cruz Dog Training Club.
Mobile dog grooming Bailey's Groom Service will offer $5 dog nail trims with proceeds donated to the Santa Cruz County Animal Shelter
Renowned local artist Jen Raynes will create a live painting of a shelter dog. Jen is huge animal lover and a long time supporter of SCCAS who creates original artwork of animals, ocean and people. For any pet portrait ordered at this event, Jen will donate 50% to Santa Cruz County Animal Shelter
SCCAS thanks Johnny's Harborside Restaurant and C-DOG for their monetary contributions to make this new dog play/exercise area a reality.