Volunteer Spotlight
Spotlight on Santa Cruz County Animal Shelter Volunteers
Volunteer Lane Maloney, perfect mix of passion and compassion!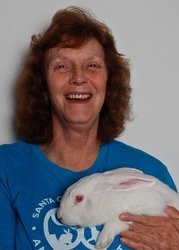 This volunteer Spotlight goes to Lane Maloney, a invaluable and irreplaceable to the volunteer training program. Lane has put in well over 4,000 hours in the past 5 years for the shelter and we are lucky that Lane has chosen to make the shelter her second home! She loves being at the shelter, interacting with the staff, volunteers, and animals and basically getting the work of the shelter done.
In addition to doing Cat and Rabbit TLC, she does cat and rabbit TLC training classes and mentors the new volunteers. Additionally, she trains volunteers to do cat shows to potential adopters. You can find Lane at the shelter almost any day of the week doing laundry, cleaning and feeding rabbits, or training volunteers to do a variety of helpful tasks.
Lane is an outstanding volunteer in every way. From helping with the mountains of laundry, to cleaning out rabbit cages, to integrating new volunteers, Lane considers no task to small or menial and will dig in to get her hands dirty and get the job done with a smile on her face. She is friendly and welcoming to everyone and the staff and volunteers have the greatest respect and appreciation for all she does.
---
Volunteer Robin Glascock, sharing a wealth of knowledge!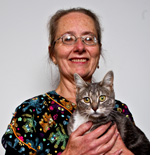 Robin Glascock began volunteering for the SCCAS in November 2013 and since that time has logged an amazing 2,466 hours. Robin's background includes a long career in high tech at Tandem Corporation and since retiring she has devoted her time to volunteering with cats. She spent approximately eight years working with Peninsula Fix Our Ferals, focusing on spay/neuter for feral cats. This launched her interest in cat behavior and she has been an avid student since 2003. Robin's background in computers and her knowledge and experience with cat behavior, has put her in a unique volunteer position here at the SCCAS. She has shared her love of cats and behavior with other volunteers, teaching classes on Shelter Cat Behavior and clicker training with cats.
Robin is a registered vet tech, with a B.S. in Biology. She is owned by 2 cats, a Bengal of 12 years, and a gray long hair that was found at 2 weeks old and is now 5 years.
---
Volunteer Marissa DeVogelaere, youth leading by example!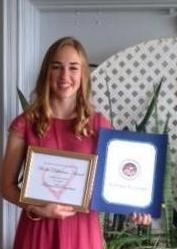 Marissa DeVogelaere is instrumental in hands-on work with the animals at the shelter as well as customer service at the shelter. She started volunteering at the shelter when she was 14 years old (in 2012), and has 428 volunteer hours logged to date. She started as a YouthSERVE Volunteer, because she was too young to volunteer on her own. Through her outstanding efforts, she was recognized by Youth Serve as a Spotlight Volunteer, and her interview was featured on Youth Serve's website as well as in their newsletter.
Marissa particularly enjoys walking and socializing dogs at the shelter, but also wanted to assist in as many ways as possible: assisting with dog photography for the adoption website and assisting with photography at SCCAS' special events; participating in our SPOTT (Special Dogs Out on the Town) program with her father (taking adoptable dogs out in the community with "Adopt Me" vest on for additional exposure); fostering animals at her home; assisting front desk personnel with customer service and desk paperwork; working with our Volunteer Coordinator to make a volunteer training video; donated a quilt for SCCAS' Wine and Wet Noses fundraiser in 2014; and sold items at the 2012 Moss Landing Antique Fair, with all proceeds going to SCCAS. Additionally, Marissa was recognized by the Santa Cruz County Board of Supervisors for her work at the SCCAS, receiving an "Outstanding Volunteer" award in 2014.
Marissa continues to demonstrate a true dedication to helping animals and equally important, a sense of responsibility and industriousness beyond the majority of her peers. She is always extremely upbeat, cooperative and courteous to our staff, volunteers and the public. Her maturity level, accountability and resourcefulness are phenomenal assets to SCCAS's efforts to improve animal welfare in Santa Cruz County.
---
Volunteer Kathy DiBenedetto, and a village!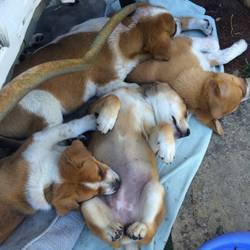 Back in July, Animal Control Officer Todd Stosuy worked with a homeless young man whose dog had given birth to a large litter of two week old puppies. The mother was very thin and needed extra care and nutrition for all of those hungry pups. The canine family was surrendered to the shelter, which then resulted in Animal Care staff scrambling to figure out how to best care for this large intake of animals to an already full shelter. That time of year often the busiest season for the Shelter.
A call went out for foster for these pups and their mother. SCCAS has a large and wonderful community of volunteers but who would want to take on this challenge? Amazing volunteer Kathy DiBenedetto stepped up and agreed to raise them in her home. In the following weeks that she has had them, the puppies thrived, the mother dog was a great mama, and Kathy experienced the joy and sheer exhaustion of raising this rambunctious group of large breed pups.
When Kathy called for assistance with gathering newspapers, and helping with daily care and socialization, other volunteers jumped in to support her and lend their hands. It was team effort on everyone's part – from volunteers to Animal Care staff, to veterinary staff to keep them healthy and thriving. All 11 puppies and the mother have been spayed and neutered, which means this litter of 11 puppies won't result in hundreds more. Once the puppies were old enough, Client Services screened potential adopters and worked with Kathy for adoption showings. At this point, all 11 puppies have been adopted!
Kathy has been the true hero of this story. She has been amazing caring for this young mother and her litter, in making sure the pups got a good head start in their lives, and giving them the love they needed when they needed it the most.
---
But these volunteers are not the only ones. Our Shelter has an amazing team of volunteers who give their time to ensure the dogs here go for walks, the cats get out to stretch their legs, the rabbits come out to play, and they make sure all the pets feel loved.

It doesn't stop there! We have Foster Volunteers, Photography Teams, Animal Care Assistants, Cottage Shop Sales Volunteers, the Green Team, and so much more! Will you consider joining us? Our team of volunteers is making the lives of the pets in our care so much better and their efforts are integral to our misson! For more information about volunteering, click here...