Behavior & Training
Click here for Behavior and Training tips!
If you have questions about your dog or cat's behavior, please feel free to call Jen Walker for our Behavior Help Line: 831-454-7235 or send an email to jen.walker@santacruzcounty.us. We are always glad to be of help!
---
Registration will be available for Adult Dog Good Manners Class soon*. We'll cover "sit," "down," "wait," "come," polite greetings, loose leash walking, and more. Learn to get more of the behavior you want from your dog in this foundation class. Have fun and bond through positive reinforcement training! Class is for dogs aged five months and older.
Please download, read, complete these important documents before after reserving your spot at class: Waiver and Release form, Dog Training Class Policies, Registration Form.
If you have any concerns about how your dog will handle being around adults, children, or other dogs in class, please contact the instructor Carla Braden at carla.braden@santacruzcounty.us or (831) 454-7218 before registering. We want you and your dog to be set up for success! We offer private training, too!
*For group classes we recommend contacting one of our local positive reinforcement trainers such as: Clear Mind Canine, Good Dog Santa Cruz, or Living with Dogs.
---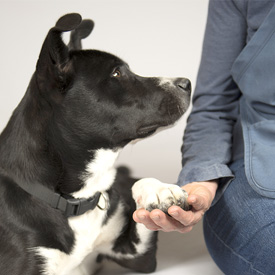 We created our Behavior and Training department to improve the welfare of animals in our shelter and educate our community about companion animal behavior and animal-friendly training. Our Behavior & Training Coordinator, Carla Braden, will be offering dog training classes, private behavior consultations, and behavior help for new adopters and owners considering surrender. Carla aims to keep animals in their homes and make life easier for pets and their guardians.
There are a lot of sources of information out there on why animals behave the way they do and how we should change their behavior. Some sources are much better than others! With the help of scientific research, our knowledge of how dogs think, their motivations, their emotions, and how we should train them has expanded greatly over the last few decades. Join us to learn to interpret dog and cat body language and gain a better understanding of who dogs and cats are, their needs, and how they experience the world.

Our upcoming classes will be for human, dog, and kitten students! Keep an eye on our website for learning opportunities including Good Manners dog training, puppy socialization, Dog Games Nights (Hot dog bobbing, anyone?!), Kitten Kindergarten, New Adopter classes, and special topics workshops and seminars for shaping, happier vet visits, calming dogs, and more! Watch for Training Tuesdays on our facebook page to see shelter dog training progress, fun shelter animal enrichment, and training tips!

To learn more about Carla, including her background and training philosophy, check out her website dogsingoodhands.com.
---
---
Mardi Richmond will continue to be a trainer with our team too!
Mardi Richmond is a Certified Professional Dog Trainer and a Certified Behavior Counselor with 16 years' experience training dogs and their people. She uses modern training methods that are very effective while also being enjoyable for the whole family. Mardi is the owner of Good Dog Santa Cruz and is a dog writer whose training articles have been published in the Whole Dog Journal, Bark Magazine, APDT Chronicle of the Dog, Dog Fancy, and Coastal Canine. She is pleased to be joining the Santa Cruz County Animal Shelter in offering dog training classes for newly adopted puppies and dogs, as well as to the larger dog-loving community.
---
"Dogs are complex, people are complex. I think the most critical components of developing a rewarding and successful relationship with your dog are trust, respect, observation, in both directions. The dogs always observe us, and we need to learn to observe them as carefully, noticing the subtle things they are telling us.
Your dog needs to know he or she can trust you. We all make mistakes, and dogs are expert at forgiving our mistakes. Dogs make mistakes, and we need to be capable of forgiving them. A foundation of trust is required to have a successful partnership.
Effort is required. As you spend interactive time with your dog, you will find the relationship building, becoming much more fulfilling than you ever thought possible. Investment in the relationship is necessary, and very rewarding.
Our dogs are our best teachers. We learn from them by observing, listening, responding. We need to learn to be as subtle and as capable of being students as our dogs are. We need to be flexible and adjust to what works for the individual. We can't assume that one size fits all."
-Tricia Breen, Canine Behavior Associates*
*Though Tricia is no longer teaching with us, we feel her quote speaks well to dog training in general and we have her okay to continue to use her words here.
---
---
IF YOU WOULD LIKE TO BE NOTIFIED OF UPCOMING CLASSES, COMPLETE AND SUMBIT THE FORM BELOW.
---
---