Emergency Preparedness Planning for Your Pets
Preparedness for the Whole Family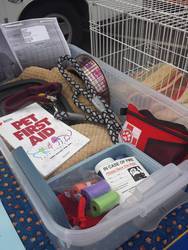 Every year we are reminded to be ready for disasters – fire, earthquakes, floods. We prepare, a bit, and then it slips off our radar. This year out state has been devastated by wildfires, some not so far from our home. We need to take action to make sure all of our family members will be safe and cared for in case of an emergency, two-legged and four-legged alike. That means being ready to evacuate everyone and have a Grab and Go Pack to meet their individual needs.
The minimum Grab and Go Pack for each of your pets should include: three days worth of food and water (rotated quarterly for freshness), two weeks' worth of any medication they need, and current vaccine records. Other items to consider: spare leash/collar/ID tags, muzzle, poop bags, nail trimmers and styptic pen, pet wipes, comfortable bedding.
If you are already prepared yourself, consider joining and training with your local CERT (Community Emergency Reponses Team) to be ready to lend a hand to your neighbors! At least have a telephone tree set up to help with pet evacuations in case if you are away from home at work when a disaster strikes. Keep an ICE (In Case of Emergency) Card in your wallet, with contact information for caretakers for your pets if you are involved in an accident. Put a "Save our Pets" window sticker on your front door so firefighters know there are pets, and how many in your home.
These proactive steps that you take now, can literally be life-savers during an emergency!
---
---
---
Planning ahead is the key to keeping yourself and your pets safe if disaster strikes. Follow these tips to make an emergency plan for your pets.
1. Microchip your pets
Microchipping is one of the best ways to ensure that you and your pet are reunited if you are separated. Be sure to keep the microchip registration up-to-date, and include at least one emergency number of a friend or relative who resides out of your immediate area. Santa Cruz County Animal Shelter offers microchips (including registration) for pets for $15.
2. Keep a collar and tag on all cats and dogs at all times
Keep several current phone numbers on your animal's identification tag. Identification on indoor-only cats is especially important. If your home is damaged during a disaster, they could easily escape. Also, license your dog with Santa Cruz County Animal Shelter and make sure the tag is on the collar at all times in addition to an identification tag. This way, animal control will know your dog is current on its rabies vaccination.
3. Plan a pet-friendly place to stay
Search in advance for out-of-area pet-friendly hotels or boarding facilities, or make a housing exchange agreement with an out-of-area friend or relative. Never leave your pet behind if you evacuate! Search for pet-friendly accommodations at: BringYourPet.com, PetTravel.com, or PetFriendlyHotels.com
4. Use the buddy system
Exchange pet information, evacuation plans and house keys with a few trusted neighbors or nearby friends. If you're caught outside evacuation lines when an evacuation order is issued, your neighbors or friends can evacuate your pets for you.
5. Prepare an emergency kit for each animal
Stock up on the items you may need during a disaster now so you do not get caught unprepared. Below are basic items you should include in your pets' disaster kits. Store your disaster kit supplies in an easy-to-grab container.
At least 3 - 5 days supply of food Store it in a water-tight container and rotate it every three months to keep it fresh. If you use canned food, include a spare can opener.
At least 3 - 5 days supply of fresh water If officials declare your household water unfit to drink, it's also unsafe for your pets. Follow American Red Cross guidelines for storing emergency water for your family and your pets.
Medication (two weeks worth) If your animal takes medication, a replacement supply may not be easily available following a disaster.
Current copies of vaccination records
Photographs of you with your pets to help prove ownership
Pet first aid kit (including: pet nail trimmer with styptic, antibiotic ointment, bandages, latex gloves, blunt tipped scissors, muzzle, pet wipes, pet 1st aid booklet, and an ace bandages)
Temporary ID tags If you've evacuated, use this to record your temporary contact information and/or the phone number of an unaffected friend or relative.
Bowls for food and water
Sanitation products (poop-bags for dogs, and bags, litter, and tray for cats)
Carrier each animal
Extra collar, leash, ID Tags
6. Identify emergency veterinary facilities outside of your immediate area
If a disaster has affected your community, emergency veterinary facilities may be closed. Pets may become injured or ill during the disaster, so make sure you know how to access other emergency facilities. You can also check with your veterinarian to find out if they have an emergency plan that includes setting up in an alternate, emergency facility.
7. Place an emergency decal or large sign on your front window or door
If disaster strikes while you are not home, this decal will alert rescuers of the animals inside.
8. Plan for temporary confinement
Physical structures, like walls, fences and barns may be destroyed during a disaster. Have a plan for keeping your animal safely confined. You may need a crate or kennel.
9. Comfort your animals
Your animals will appreciate your calm presence and soft, comforting voice if they are stressed following a disaster or while evacuated, and you may find it comforting to spend time with them, too. Some animals, especially cats, may be too scared to be comforted. Interact with them on their terms. Some animals may find toys, especially long-lasting chew toys, comforting.
10. Livestock in Santa Cruz Co.
The Fairgrounds in Watsonville is where livestock will most likely be evacuated UNLESS the disaster affects it.
11. Know where to search for lost animals
When animals become lost during a disaster, they often end up at a local shelter. Keep handy the locations and phone numbers of the shelters in your area.
---
If you lose your animal in Santa Cruz County go to:
Santa Cruz Animal Shelter
Santa Cruz Location: 2200 7th Ave., Santa Cruz, CA 95062
Watsonville Location: 580 Airport Blvd., Watsonville, CA 95076
(831) 454-7200 ext #1
---
OTHER RESOURCES
Source: Red Rover