Kudos
We are extremely fortunate to have the community support of so many talented volunteers and supporting organizations. Some work directly with the animals, and others use professional skills in numerous ways for our benefit. We're recognizing a few standouts here as our new website launches, and we'll be adding more in the near future. A big, big THANKS!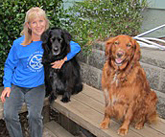 Erin Conway
Volunteer Extraordinaire, Erin Conway, has been volunteering as a dog walker at Santa Cruz County Animal Shelter (SCCAS) for years. Not only is she a great "hands on" volunteer, Erin was the volunteer that initiated the new marketing and development committee that meets once a month to work on promotional and fundraising ideas for SCCAS. Erin has been instrumental to the new branding and public outreach programs at the Shelter. She also spearheaded and was the team leader for SCCAS' participation in the annual fundraiser, The Human Race. For the past three years this event has been SCCAS' biggest fundraiser to date.
SCCAS would like to send a HUGE thank you to Erin for her proactive efforts on behalf of the community's neediest animals!

Animal Friends Rescue Project
Animal Friends Rescue Project (AFRP) has been taking a record number of Santa Cruz County Animal Shelter's (SCCAS) cats and kittens into their adoption program. Many of these animals have medical issues or are too young for adoption. This partnership has increased SCCAS' animal transfer rate significantly and directly helps increase SCCAS' live animal release rate.
So far this year, AFRP has taken 263 cats and kittens from SCCAS! Included in this number are all 9 cats and kittens that were under quarantine at our Watsonville shelter for possible ringworm exposure. All of these cats and kittens will now be adopted through AFRP and given a second chance.
SCCAS would like to thank Melissa Finley, Santa Cruz Cat Coordinator, of AFRP and their many wonderful volunteers for their commitment and dedication to helping animals in our community.
Animal Friends Rescue Project (AFRP) is a 501(c) 3 nonprofit organization based in Pacific Grove, California. They were founded in June 1998 by four individuals who were passionate about making a difference to companion animal overpopulation. They are dedicated to finding good permanent homes for abandoned, stray, and abused companion animals and ending the pet overpopulation crisis through focused spay/neuter programs.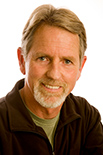 David Reese Photography
David Reese of David Reese Photography and his wife Erin really make us look good, and we mean that literally! Dave and Erin have donated countless hours of time, their considerable skills and their equipment to photograph our adoptable animals. It's often the photo that first catches the eye of a potential adopter, so our enthusiasm isn't just about vanity. Our photos are one of the most important tools we use to reach the public with news of our adoptable animals. In addition to his "regular" photo shoots at the shelter, Dave often volunteers his skills at fundraising events. At our February "Meet Your Match" event, for example, he offered professional dog portraits to folks in attendance at a hugely reduced rate, donating his time for the duration of the event.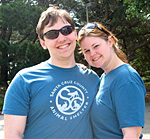 Ryan Loebs
Ryan pulled off the seemingly impossible task of programming the shelter's new website WHILE finishing his senior year at UCSC in the computer science department and applying for internships. His girlfriend, Bailie Dusseau, is an avid cat volunteer at the shelter. She introduced him to Melanie Sobel, our general manager, and the project was underway. Ryan chose Drupal, a very user friendly content management software program for web development and worked to implement a design using our new colors and logo. This software will enable us to keep things current on our website without having programming skills. Thanks so much!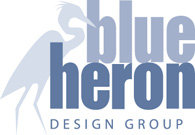 Blue Heron Design Group
Jenny Sandrof and Sally Wing of Blue Heron Design Group, a Santa Cruz graphic design firm, have contributed extensively to the recent branding/marketing initiative at the shelter. Sally is a long-time dog volunteer who became involved with the logo committee. With Sally's "encouragement," Jenny contributed her time and talent, taking us from initial sketches through the design process to the completion of our new logo. Sally then spent countless hours developing a website design which complements the colors and look of the new logo. Sally has tolerated many a request for a new format of some version of the logo or a change of some design element and done so with grace. Her understated, salt-of-the-earth, unassuming nature makes her a rare gem to work with and an invaluable asset to the shelter; she gives selflessly and without bounds and has done so for the many years she has been a shelter volunteer. Without the initiative and support of Sally and Blue Heron Design Group, the new logo and everything that followed could never have gotten off the ground.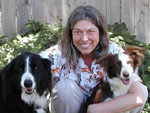 Dr. Evelyn Sharp
Dr. Evelyn Sharp of My Personal Vet continually offers support to animal welfare in Santa Cruz County by providing spay/neuter services to both Santa Cruz County Animal Shelter and Project Purr as well as volunteering her time and services for special events. Dr. Sharp volunteered at Santa Cruz County Animal Shelter's "Meet Your Match" Valentine's Day event, administering low-cost rabies vaccinations and microchips to participant pets. She did the same at our May 21, 2011, "Healthy Dogs Shots Fair" in Ramsay Park in Watsonville, also recruiting two colleagues, Dr. Marc Van Every and Dr. Christine Gustin, to help out with providing services to approximately 350 dogs! Dr. Sharp will also be volunteering at our upcoming "Meow Luau" adoption event to provide an "Ask-the-Vet" booth for participants. A huge "thank you" to Dr. Sharp for your ongoing support of the animals in our community!

Shelly's Guardian Angel Project
Shelly Crowley created her Guardian Angel Project to help pay for adoption fees for older animals. Kittens and puppies find homes fast, but a 6-year-old dog or an 8-year-old cat have a much harder time. By selling used books and setting out donation cans, Shelly has been able to help older pets by collecting money for the cost of their adoption fees. When you visit the shelter, you will see on certain dog and cat kennels the tags created to show which animals need a second chance — they're part of the Shelly's Angel Project! We're very grateful for this special program.