Meow Luau: An Adoption Event for Cats!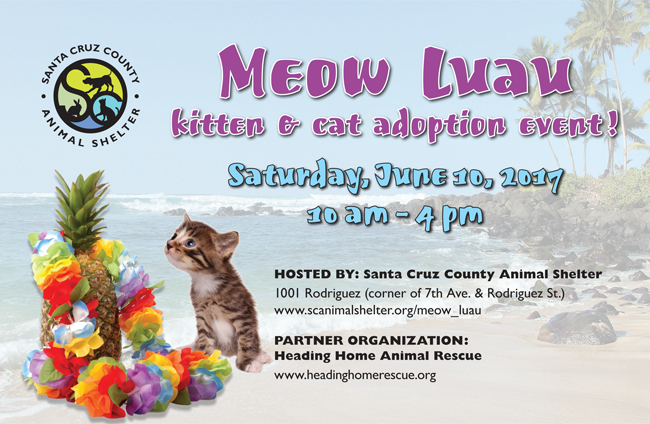 Working Together to Find Homes for the Kittens and Cats in Our Community
On June 10, 2017, Santa Cruz County Animal Shelter (SCCAS) will host its Annual "Meow Luau" Kitten and Cat Adoption event at SCCAS' Santa Cruz shelter, 1001 Rodriguez (corner of 7th Ave. & Rodriguez St.) from 10 a.m. to 4 p.m. The goals of the event is to adopt cats and kittens into new homes during the busy summer season when there are many homeless animals entering shelters, bring information about feline care and training to our community, and have FUN!

This event is a joint partnership between SCCAS and Heading Home Animal Rescue. Heading Home Animal Rescue is our most important placement partner; they will be bringing adoptable cats and kittens too!

Participants are invited to come to Santa Cruz County's largest animal shelter to meet beautiful cats and kittens available for adoption. During this event, all kitten and cat adoption fees are only $50! All adoptions include spay/neuter, microchip (including registration), age appropriate vaccinations, routine treatment for fleas/worms, and a free pet wellness exam with local participating veterinarians.
Featured events include Michelle Kiba's Ukulele Academy & Hula Dancers performing from noon to 1:30 p.m.; SCCAS veterinarian Dr. Dana Gleason offering information on feline health and veterinary needs from 10 a.m. to 11 a.m.; and Robin Glascock offering a presentation on cat training (including a live demonstration of clicker training to teach tricks to cats) from 2 p.m. to 3 p.m.

"During the spring and summer months, as the weather gets warmer, cats begin new breeding cycles and many cats and kittens enter the shelter," said Melanie Sobel, General Manager, SCCAS. "We urge anyone looking for a companion animal to come to the shelter to support the local homeless animals in the community."