Pet of the Week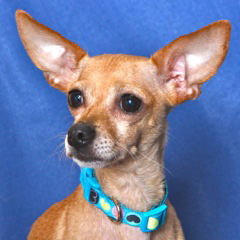 Marigold - A Very Special Treasure!
Marigold is a Chihuahua mix with big brown eyes that will melt your heart. Although she is 8, she has a spring in her step and energy to burn! When she arrived at the shelter she was emaciated and despondent. Now she has filled out beautifully and her playful affectionate nature has blossomed.
Although Marigold can be nervous in new situations, once she feels comfortable her joyful silly side comes out. She loves to play with other dogs and would probably like another small canine companion in her next home. Although shy when she first arrived, she now takes center stage in the playgroups here at the Shelter and is very eager to get the party started. We feel she would do fine with older, respectful children.
In a home environment, Marigold attaches quickly and follows you around. She loves cuddling under the covers, but will lie quietly in her own bed if asked. She enjoys being in your lap or nearby while you read or watch TV, but doesn't seem overly needy. She walks well on leash and jumps eagerly into the car when it's time for a ride.
Marigold has been overlooked in the shelter because of her age -- although 8 is barely middle-aged for Chihuahua mixes -- and the abundance of similar looking dogs that have shared the shelter during her stay. This sweet girl who was rescued from starvation richly deserves to be chosen and lavished with love for the rest of her life.